Avoid Jet Lag by Flying on a Private Aircraft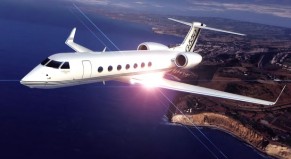 Avoid jet lag, is that possible? A chaot­ic work schedule, marathon meetings requiring many to fly east-west or west-east on a weekly basis, is not only stressful, but also leaves us jet-lagged. When you're dealing with jet lag most of the time, relaxation or play between periods of work virtually cease to exist. Therefore, how to avoid jet lag is a question that plagues all of us. Before we have any chance to avoid jet lag, we need to know what it is.
When we travel across time zones contrary to what our body clock is used to—changes in day-dark—our natural rhythm is messed up and we're out of synch. When this occurs, our sleep-wake, eating, work times and hormone regulation is unbalanced. Until we adjust to our new environment, we feel jet-legged. We feel jet-lagged when we fly west-east or east-west. This occurs even when flying from the East Coast to West Coast within the United States, and it happens when we fly from, say, Los Angeles to London and vice versa.
Symptoms of jet lag include feeling drowsy, irritable, disoriented, sluggish, headaches, depression, insomnia, attention deficit, confusion, and diarrhea or constipation.
But there are things that you can do to avoid jet lag or greatly reduce the affects. One thing you can do to help avoid jet lag is to fly on a private chartered aircraft. Unlike commercial airline travel, private chartered flights allow passengers to eat food on the time zone of their destination. Conversely, airlines serve food based on the time zone of the departing location. Flying privately also affords passengers plenty of legroom and freedom to move about the cabin—keeping the blood flow moving helps to avoid jet lag. Another important aspect to avoid jet lag is sleep. Private aircraft are equipped with reclining, spacious seats; depending on aircraft type, many have staterooms and queen beds. Controlling interior cabin lighting is another way to help avoid jet lag. When you charter a whole aircraft, you're in charge of your environment. Sadly, this is not the case with conventional airline travel.
Avoid Jet Lag Tips
Avoid jet lag tips includes: Setting your watch to the time at your destination as soon as your flight starts, drink water and stay away from alcohol and caffeine during your flight, eat a well-balanced diet (in-flight catering is available onboard private aircraft) and get some exercise, which can be done onboard a private plane. Some experts say taking, melatonin, a hormone (which takes a couple of days to kick in) will help to avoid jet lag. If you're thinking about taking melatonin, check first with your doctor.
Avoid jet lag tips can also be found at MedicineNet.com.