Kansas City Private Jet Charter Rental
Private jet charter rental to Kansas City, Kan., promises quite the adventure, as it's the hottest tourist destination in the Midwest. From racing and grand-scale shopping, to unique dining and lodging, Kansas City offers visitors experiences packed with hospitality, family fun and fantastic entertainment. For instance, a mere 51-minute drive will lead you to the Jesse James Farm & Museum, where you can learn about the outlaw's notorious history. Kansas City is part of the greater metropolitan area neighboring cities on both sides of the state line of Kansas and Missouri, offering a myriad of attractions in every direction.
Selecting a Private Jet Charter Flight
Before booking a private jet charter rental to Kansas City, you should first ensure that you're dealing with the most reliable company. Arrival Aviation is here to help you select the appropriate aircraft type and choose the most suitable airports that accommodate general aviation. For Kansas City, airports recommended include Kansas City International Airport (KMCI), Charles B. Wheeler Downtown Airport (KMKC) and Manhattan Regional Airport (KMHK). These airports can accommodate small, midsize, heavy or large corporate aircraft.
Keep Safety in Mind When Chartering a Jet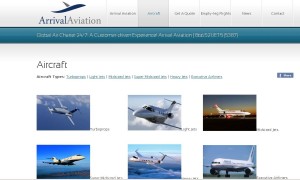 Arrival Aviation puts your safety first. We check operators' aircraft and crew records—and much more—before booking your flight with an FAA-licensed carrier. You can feel confident that we only provide first-class and hassle-free service 24/7.
To learn more about various aircraft types available for private charter, visit our aircraft gallery. You can also expect us to offer other special services, such as VIP ground transport service, in-flight catering arrangements, flight tracking, etc. Our round-the-clock customer assistance service is available for all your inquiries, including updates on your flight schedule.
For more information on how to book your private jet, please call Arrival Aviation toll-free at 866.521.5387 (JETS) use our online Request-a-Quote form.