Private Jet Air Charter to Jacksonville FL
Charter a jet to Jacksonville, Fla. and enjoy all this city has to offer, whether flying privately for business or pleasure. In terms of population, this city is the largest in the state of Florida, and ranks number 12 in the United States.
Jacksonville is known for world-renowned parks that include: Hemming Plaza, the first and  oldest park in the city that boasts a 1.54-acre of public space, which is located in the heart of the government center; Riverside Park (second oldest); Memorial Park (third oldest); Tree Hill Nature Center (environmental education and nature preserve center); Veterans Memorial Wall, which pays tribute to more than 1,500 local American war heroes and is the only wall that honors veterans from all six military branches (Air Force, Navy, Marines, Army, Coast Guard and Merchant Marine).
Jacksonville Private Jet Charter Flights
Your Jacksonville travel adventure starts by getting in touch with Arrival Aviation. As soon as you provide us with your details, you can simply sit down and relax. We specialize in providing you with top-notch A to Z travel accommodations, such as finding the most convenient airports that cater to general aviation private jet aircraft. For your Jacksonville trip, recommended airports that accommodate light, midsize, heavy or large commercial-configured corporate jets include Jacksonville International Airport (KJAX), Gainesville Regional Airport (KGNV), Brunswick Golden Isles Airport (KBQK) and Daytona Beach International Airport (KDAB).
Booking Your Jacksonville FL Private Jet Charter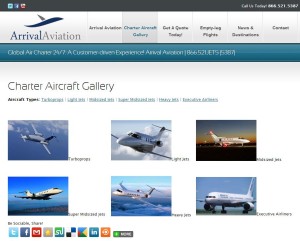 For the most exclusive travel experience, Arrival Aviation is your best choice when it comes to renting a private jet. We offer only the best services. You can be assured that you'll fly and land safely, as FAA-licensed air carriers—which operate the safest aircraft and most experienced crews—only fly our clients.
To become better acquainted with various aircraft types suitable for private air charter, check out our aircraft gallery, which also provides info on typical passenger seating capacity and other features. You can also feel at ease knowing that Arrival Aviation is here for you 24/7, and we always keep abreast of flight tracking and inform you with the status. We also offer other services, like arranging for your in-flight catering, ground transport needs, VIP accommodations and much more.
For more information, contact Arrival Aviation toll-free at 866.521.5387 (JETS). To help you set your budget, use our free online Request-a-Quote.