The newest members of the Boeing 737 family continue the 737's pre-eminence as the world's most popular and reliable commercial jet transport.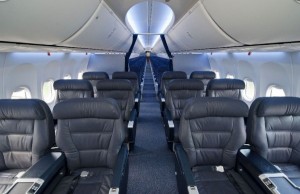 The 737 family has won orders for more than 6,000 airplanes, which is more airplanes than The Boeing Company's biggest competitor has won for its entire product line since it began business.
The 737 – a short-to-medium-range airplane – is based on a  key Boeing philosophy of delivering added value to airlines with reliability, simplicity and reduced operating and maintenance costs.
| | |
| --- | --- |
| Passenger Capacity | 124 – 189 people |
| Cruising Speed | 485 mph |
| Range | 3,500 nm |
| Length | 100 ft. |
| Width | 11.7 ft. |
| Height | 6.11 ft. |
| Baggage Capacity | Configuration dependant |