The Boeing 757 is a twin-engine short-to-medium-range jetliner incorporating advanced technology for exceptional fuel efficiency, low noise, increased comfort and top operating performance.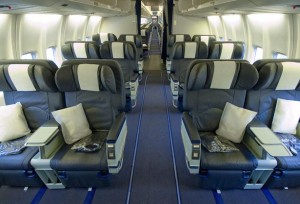 The 757 offers other virtues as well, including great versatility by  reducing airport congestion. It can fly both long- and short-range  routes and its broad use effectively lends itself to "hub-and-spoke"  planning.
On Nov. 28, 2005, Boeing concluded the remarkable 23-year  run of the 757 passenger airplane by delivering the final one to  Shanghai Airlines.  The airplane is the 1,050th Boeing 757. The 757 is  one of seven commercial models that have sold more than 1,000 airplanes,  and more than 1,030 of the 757s are still in service.
| | |
| --- | --- |
| Passenger Capacity | 186 people |
| Cruising Speed | 460 kt |
| Range | 5,700 nm |
| Length | 130 ft. |
| Width | 11.6 ft. |
| Height | 6.11 ft. |
| Baggage Capacity | Configuration dependant |