Highly efficient turbofans enable the Citation Excel private jets to climb to 43,000 feet in just 22 minutes and cruise at speeds just under 500 mph.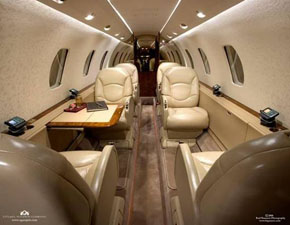 It will complete a typical 300-mile trip in just 47 minutes.
The Excel private jet's trailing-link landing gear makes for smoother taxi and softer, more forgiving landings on all types of surfaces. With the big cabin of a midsize jet and the flexibility and freedom of a light jet, the Citation Excel private jets offer a level of performance never thought possible from this unique combination.
| | |
| --- | --- |
| Passenger Capacity | 6-8 people |
| Cruising Speed | 480 mph |
| Range | 1829 st.m. |
| Length | 18.6 ft. |
| Width | 5.5 ft. |
| Height | 5.7 ft. |
| Baggage Capacity | 79 cu.ft. |