The Gulfstream IV, a long-range jet aircraft, is manufactured by Gulfstream Aerospace and has a normal range of 3,800 nautical miles and a maximum range of 4,200 nautical miles.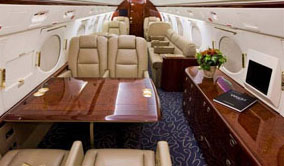 Typically, the G-IV can support a crew of 2 and can carry up to 13 passengers. It has a normal cruising speed of 476 kts and a maximum cruising speed of 500 kts. It features two Rolls-Royce TAY 611-8 engines.
The Gulfstream IV is the aircraft of choice for 90 percent of the top Fortune 500 companies and more than 30 governments worldwide.
| | |
| --- | --- |
| Passenger Capacity | 13 people, typical |
| Cruising Speed | Mach .80 |
| Range | 3.338 / 4,220 nm |
| Length | 43 ft. cabin |
| Width | 7.4 ft. |
| Height | 6.1 ft. |
| Baggage Capacity | 169 cu.ft. |