The popular Learjet 31A private jet is the performance and flexibility leader in its class.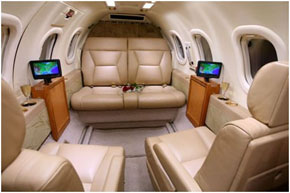 It can operate with full seating and maximum fuel capacity from runways shorter than 3,500 ft and an unsurpassed ability to climb to 43,000 ft in 20 minutes. It offers freedom from turbulence as well as airport and airspace congestion.
Flying faster than any aircraft in its class, the Learjet 31A private jet routinely flies at 45,000 to 47,000 ft while offering the lowest operating cost per nautical mile of any transport category business jet.
| | |
| --- | --- |
| Passenger Capacity | 6 people |
| Cruising Speed | 525 mph |
| Range | 1665 sm |
| Length | 12.9 ft. |
| Width | 4.9 ft. |
| Height | 4.4 ft. |
| Baggage Capacity | 40 cu.ft. |